Delta Sigma Theta Sorority is a public service sorority that is committed to educational excellence. We believe in the importance of fostering the potential and accomplishments of high achieving African-American students. The Decatur Alumnae Chapter of Delta Sigma Theta Sorority, Inc. is offering financial assistance to outstanding students pursuing higher education to help defray the cost of their education. These scholarships are designed to provide assistance to high school students who demonstrate ability, aptitude, community service, church involvement, and a promising scholastic future.
Students in their senior year of high school who are planning to attend an accredited institution of higher learning and who are residents of Decatur Alumnae's service area, which includes certain portions of DeKalb County and Gwinnett County, are given the opportunity to apply for these scholarships during the current academic school year. 



11.28.2013
Happy Thanksgiving from the Ladies of Decatur Alumnae Chapter.
12.14.2013
DAC's PPD presents Breakfast with Santa
________________________________________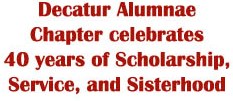 The Decatur Alumnae Chapter of Delta Sigma Theta Sorority, Inc. was chartered October 5, 1973, at the home of Mrs. Bobbie Sanford, by 16 women who had the foresight and vision to establish a Delta Chapter in the DeKalb County area. Their goal was to continue the expansion of the sorority's commitment of providing public service to the surrounding communities, addressing national issues with far-reaching implications, and identifying and working toward the resolution of international crises.

We encourage your participation, attendance and support at any of our 40th Anniversary Chartering events. Please return often, as updates our site will be updated frequently.